Care for oily hair from SIBERINA
Hair is something that every girl is proud of. That part of her arsenal of seduction for which requires special care. However, no action should be thoughtless, so before you do something, you need to know about your hair type.

Experts identify 4 main types:
Normal - thick, thick hair that begins to get dirty around the end of the 3rd day.
Fatty - greasy shine appears by the end of the first day, styling does not hold well, and you have to wash your hair almost every 2 days.
Dry - After washing, normal, the feeling of tightness of the skin is preserved, the ends of the hair are Thin, brittle, splitting, hair tangling and tearing when combed.
Combined - they combine a greasy and dry type - the greasy shine appears very quickly at the roots, and the tips, on the contrary, are dry and thin, and when combing the hair are confused.

Probably one of the most problematic types is a type of greasy hair. Unpleasant greasy shine on hair, styling instability, the need to wash your hair every day. With this, of course, need to fight!
In this case, base oils can help. They not only help to cope with excessive greasiness of the skin, but also can have additional actions:

Coconut oil gives smoothness and silkiness, creates protective barriers against damage, moisturizes and nourishes the roots;
Massage oil nourishes the hair follicles, provides shine, eliminates dandruff;
mindal can be used to treat dandruff or seborrhea, also contributes to the normalization of the sebaceous glands;
jojoba oil - fights strand loss, eliminates dandruff;
macadamia oil makes hair softer and more docile, makes combing curls easier, gives a beautiful healthy shine;
The walnut oil moisturizes and regenerates the scalp. It also fights dandruff perfectly, eliminating all infections, making hair shiny and healthy.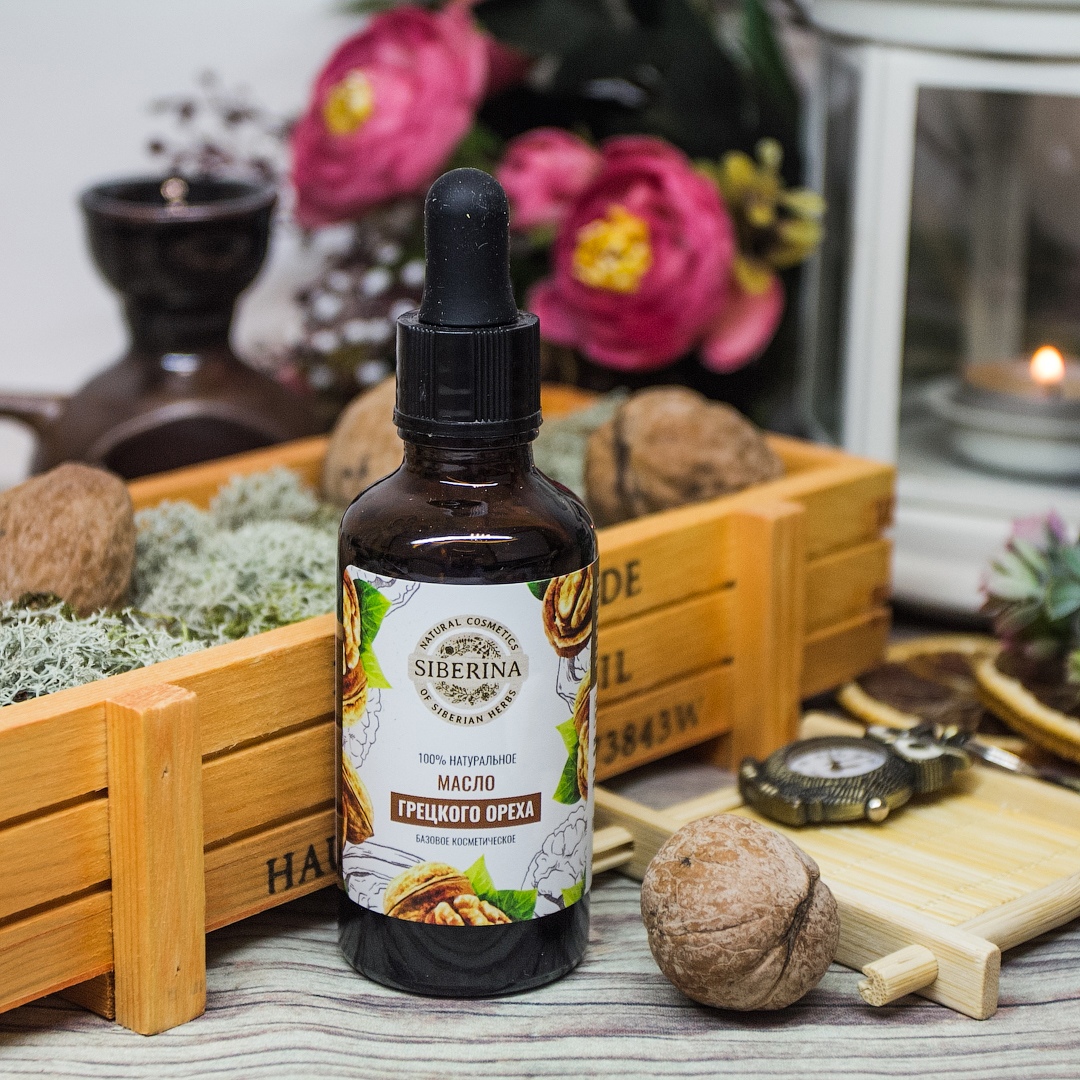 Methods of use:
Enrichment of hair care products with base oils, because vegetable oils have practically no contraindications, except for individual intolerance.
And, of course, masks will be one of the most popular means of use. They are very effective in combating oily hair. Use masks in the form of rubbing, wrapping or massage.
We are glad to tell you about the pleasant novelties that will undoubtedly be included in your daily beauty ritual.

Siberina has released a series of natural solid body creams. With such a texture, the massage tile literally melts from contact with your skin, thereby creating a pleasant, relaxing massage atmosphere.

With regular use of massage tiles, your skin gets the maximum amount of healthy oils, gradually becoming smoother, firmer and more tender. And you get a fresh, well-groomed and radiant image!

Feel for all the benefits of natural cosmetics SIBERINA!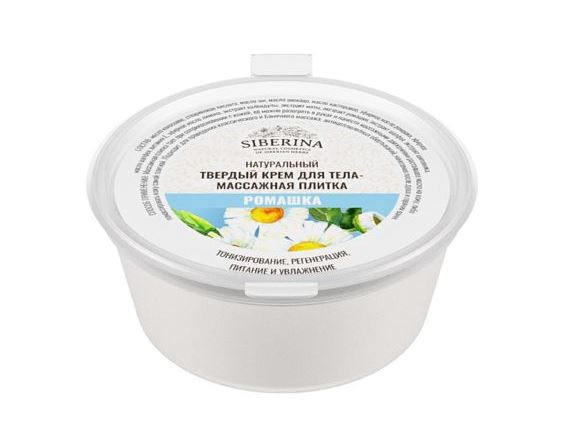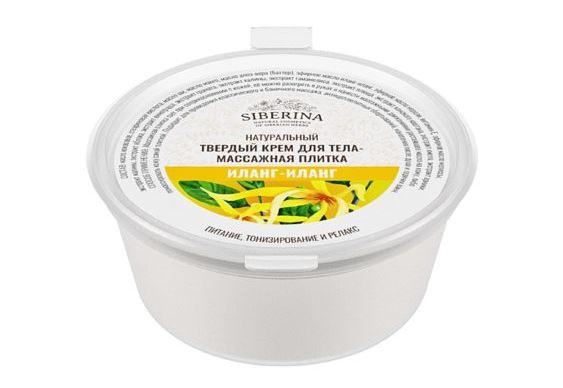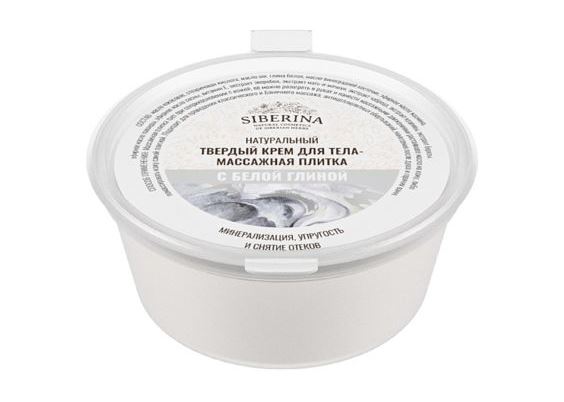 Hello!
Surely many would like to look at our "kitchen". We open the veil and tell you about what is happening in our production.

Where does the raw material for our cosmetics come from?
We buy it from large proven distributors who can provide the entire package of accompanying documents for raw materials (and this is 7 certificates!)

What is stored in this raw material?
Stored in the original container of the supplier (barrel, canister, bag, etc)

What is the process of creating a product?
1) A "product development schedule" is drawn up
2) Assessment of the complexity of the design. Preparatory stage
At the preparatory stage, the properties of each product are determined, a suitable container is selected depending on the properties. The list of raw materials is made and its order is made
3) Development
At the stage, test schemes are drawn up. All activities are divided into stages, and the tool is made on them. At the end, the basic properties (parameters that can be examined in the laboratory without testing) are checked.
4) stability Tests
At this stage, the products are tested in the laboratory using centrifugation methods, an accelerated aging chamber, a UV radiation test, a stress temperature test and a compatibility test with the packaging.
5) Microbiological test
At this stage, it is tested how the preservative copes with pathogenic microflora: bacteria and fungi.
6) property Testing
Testing of samples of raw materials is carried out on volunteers. Receiving feedback, the decision on further work on development of a product is made: or the structure and technologies for elimination of the revealed discrepancies is corrected, or this structure and technologies for production are accepted.

We told you about the main moments of our life at work.
We try to make for you exclusive cosmetics on the basis of natural components, and we are glad when its use brings you pleasure.
In the arsenal of each person there are tools that he uses daily. And the selection of such funds requires a special approach.
Toothpaste can rightly be called a thing of daily use. In addition, brushing your teeth is a special moment in the morning ritual, because with its help we protect our teeth from various diseases, such as tartar, caries and so on. Good toothpaste removes plaque, improves gum condition, prevents diseases of the oral cavity, supports the natural shade of teeth.
These qualities we have combined in our natural toothpastes!
Abrasive particles in all pastes calcium carbonate acts. It is a very finely ground natural mineral. It provides removal of tartar without harm to enamel. An additional ingredient in pastes is sea salt, rich in trace elements and minerals, which have a beneficial effect on teeth and gums.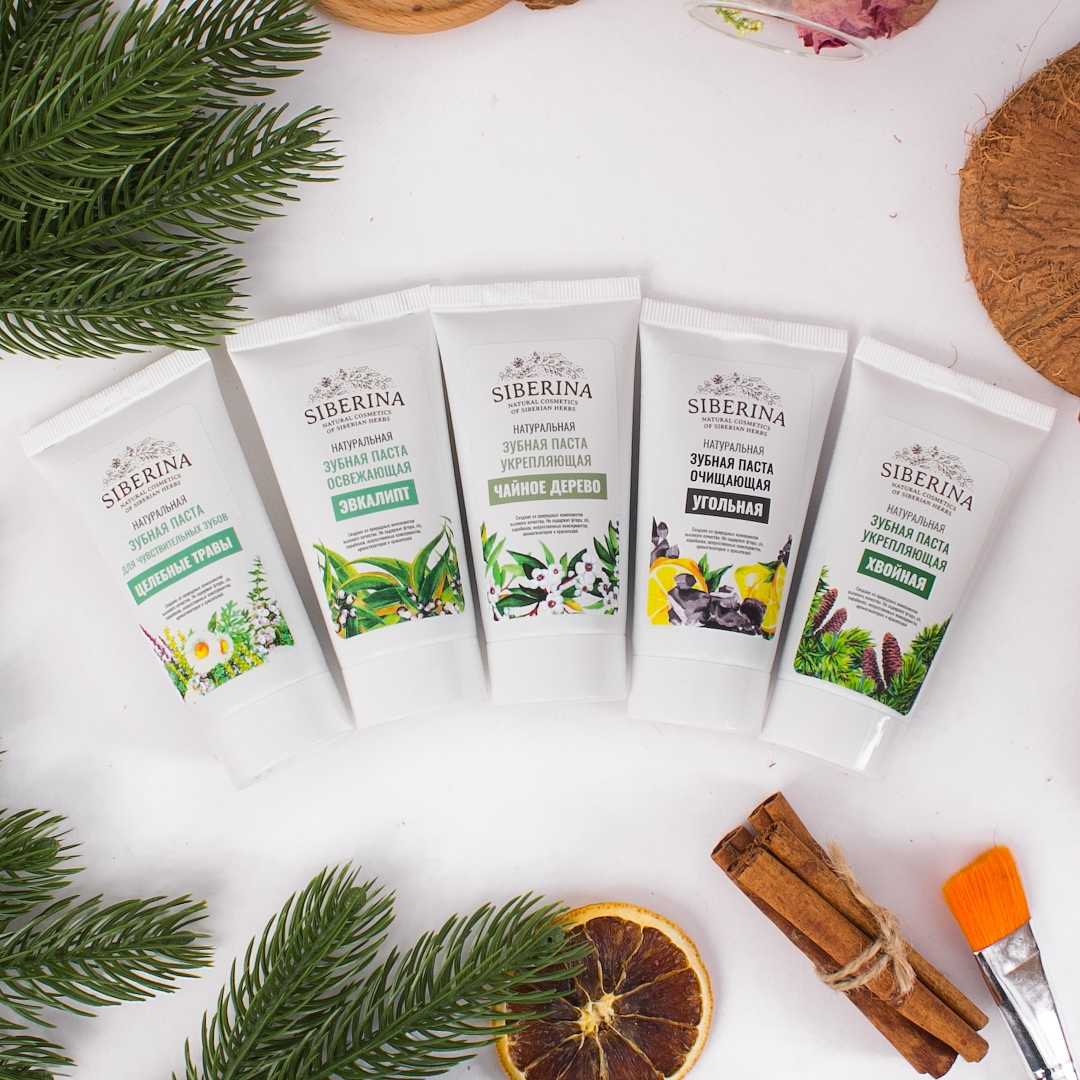 All 9 tools in the line differ from each other in their unique composition.
Toothpaste firming "Coniferous" contains the essential oils of fir and pine. They strengthen the teeth and gums, prevent the occurrence of periodontitis. They have a strong anti-inflammatory effect.
Toothpaste for sensitive teeth "Healing Herbs" is rich in essential oils of chamomile, sage and sage. The ingredients have anti-inflammatory and antimicrobial effects, fight against bad breath and help to treat diseases of the oral mucosa.
Unusual refreshing paste "Eucalyptus" perfectly refreshes and has an antimicrobial effect, fights bad breath.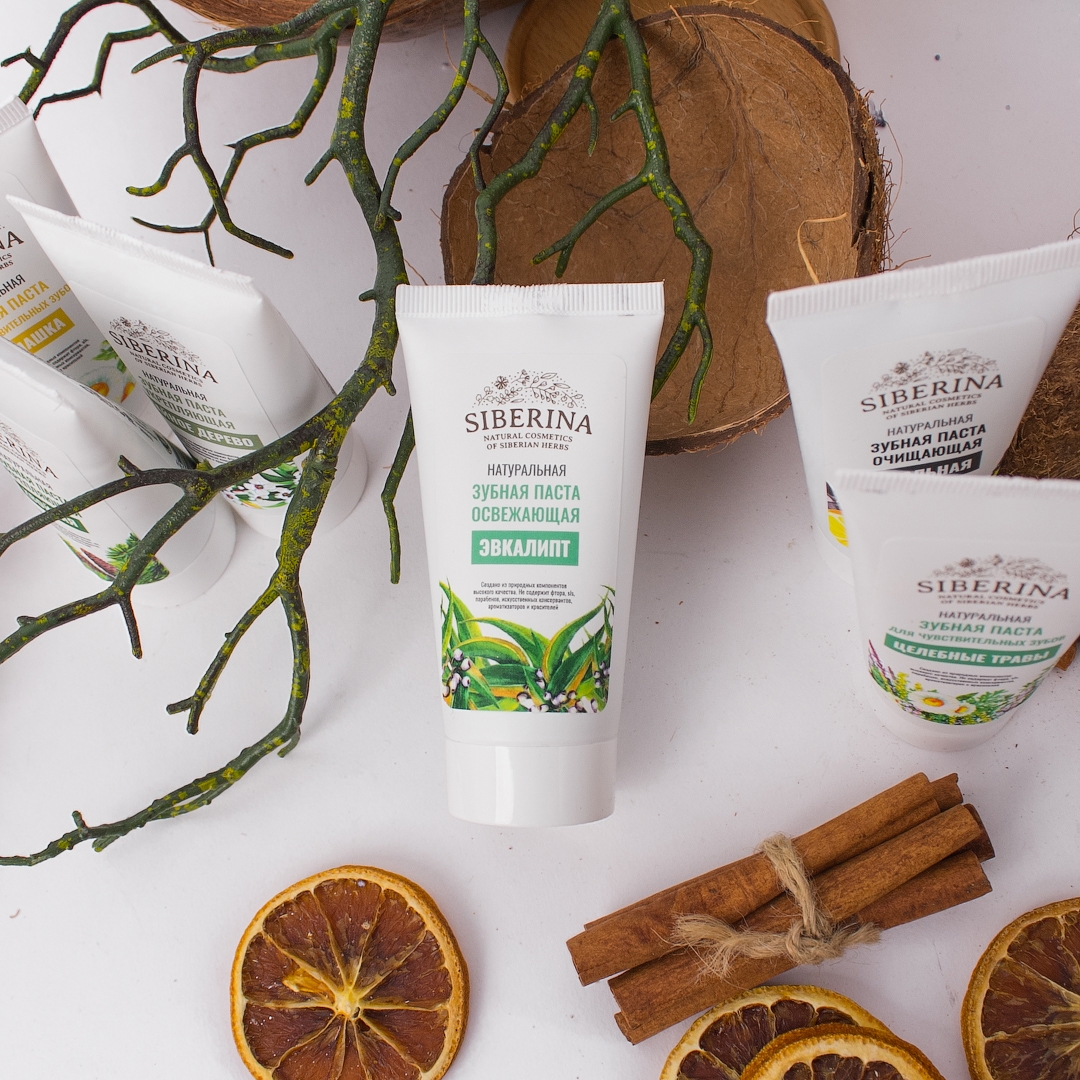 Refreshing "Mint" toothpaste is rich in an extract of this green plant that kills bacteria that cause an unpleasant odor. They give freshness to breath and a pleasant aroma for the whole day.
Cleansing toothpaste "Coal cleansing" ensures the removal of plaque and tartar without harm to enamel. The activated carbon in the composition has excellent sorption properties and provides a completely safe cleaning and whitening of the teeth.
Toothpaste for sensitive teeth "Chamomile" has anti-inflammatory, healing, cleansing properties, does not cause allergies and irritations.
Toothpaste strengthens "Basil" normalizes the microflora of the mouth, helps prevent periodontal disease and the formation of tartar.
Toothpaste firming "Tea Tree" has antiseptic and disinfectant properties, copes with various harmful bacteria. Warns the occurrence of inflammation of the gums and caries.
Cleansing Toothpaste "Lemon" intensively whiten teeth without damaging the enamel. Reliably protect against caries and the formation of plaque.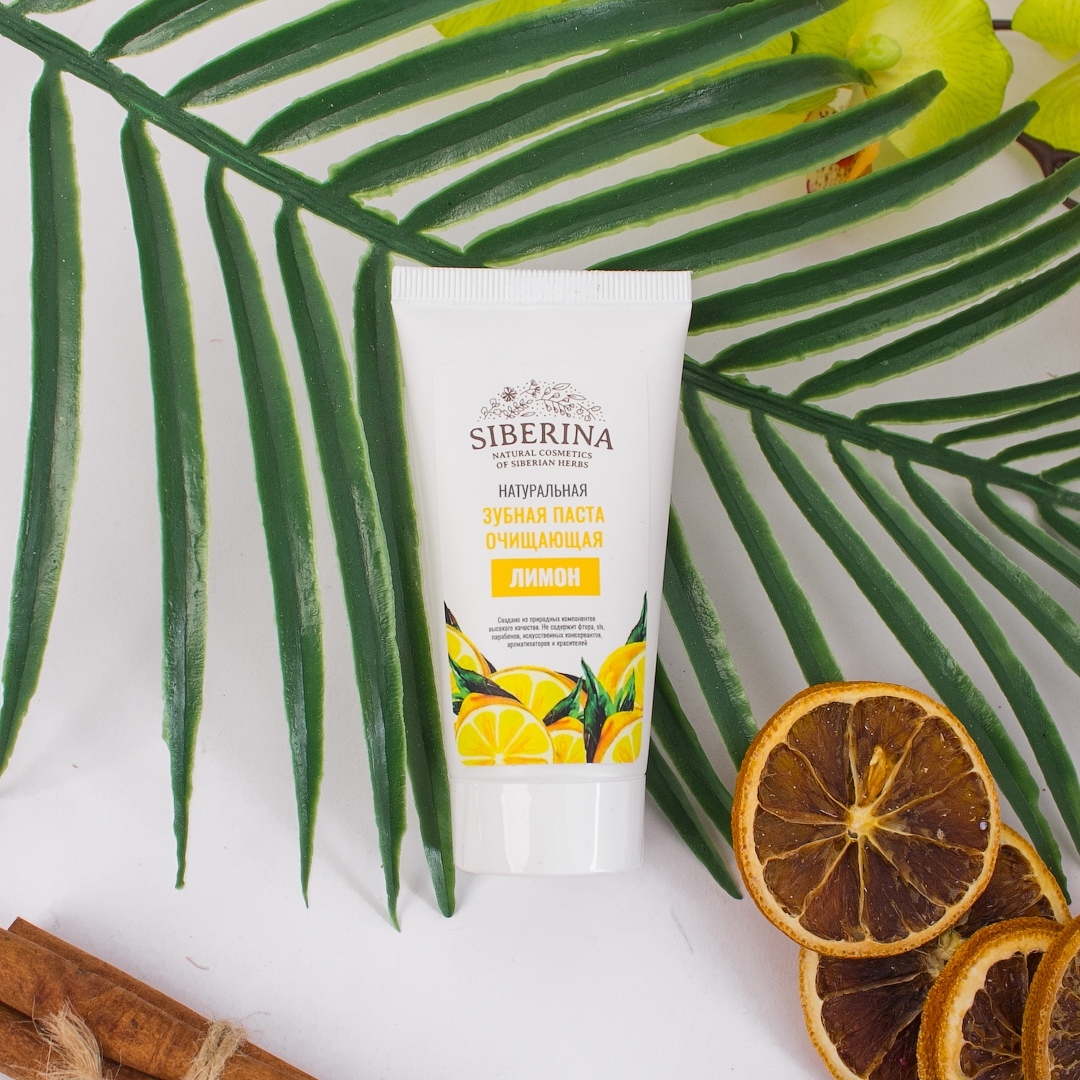 Taking care of your mouth every day with SIBERINA is easy!
The minimum wholesale order of only 20,000 rubles, delivery and payment is made in any convenient way for you. Your order will be supervised by a personal manager who will help at each stage.
SIBERINA - cosmetics with a Siberian soul.
Send your request now to get a wholesale price list